Eron Records (US) [RON-12A974] 1983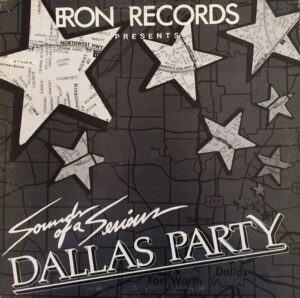 Early piece of Southern electro funk from legendary club and radio DJ Ushy Eron (R.I.P.) out of Dallas and the very first rap record from Fort Worth. It was a huge local hit released on Ushy's own label.
The first rap record I produced. I just found out that an old friend Ushy Eron had died several years ago. So I thought I would post a record I produced for his label back in 1983. Ushy was a DJ in the Dallas area and a pioneer of Hip Hop culture in that part of the country. This track is from his group the Star Studded Stutters. "Neckwork" was a regional hit in the south with some east and west coast penetration. I played all the tracks except for keyboards which were done by Mr. Wayne Stallings from the MCA recording act "ZOOM". If you are not familiar with this group search You Tube for "Love Seasons", really a great song. Anyway I remember I was in Dallas to pick up two new guitars from Tokai Guitars, which I had agreed to sign an endorsement deal with. So I picked up the guitars and went directly over to the studio and recoded this track. The guitar I played was an experimental aluminum body guitar with a wood neck. It sounded like SHIT!!!! All treble all the time!!! But I tried to make it work even though I was fighting the lack of tone. Anyway, I recorded and mixed the track in an afternoon and it was released about a month later. This was my first rap record, and I didn't want to do it, back then I didn't think much of rap or rappers. I thought they couldn't sing or play any instruments so they really weren't recording artists. But I promised Ushy I would help him so I just wanted to quickly lay the tracks and get out of there. That was quite evident if you bought the record and noticed that the "B" side of the 12" was just and instrumental of the track with me soloing constantly for about eight minutes! [Kim Guidry]
There are a couple of label variations of this release, one with a picture sleeve and one with a generic sleeve. Both were released in the same year, they are just different pressings.
---
Side A
Neckwork (Vocal) [7:47]
Side B
Neckwork (Instrumental) [7:47]
---
---