Sugar Hill Records (US) [SH-545] 1980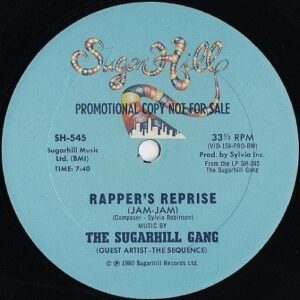 Commercially unreleased second offering from Master Gee, Wonder Mike & Big Bank Hank (R.I.P.) in the US. "Rapper's Reprise" is a nice disco boogie rap follow up to "Rapper's Delight" and The Sequence while the flip has a slightly harder sound and also contains a nice drum break which has been sampled by the likes of the Beastie Boys, De La Soul & Stezo.
It was issued in the UK as the B side to the soulful track "Bad News".
The acetate of this track, which is pictured below, is a slightly different version which sounds like it was mixed differently and has a slightly rawer edge to it.
Acetate info courtesy of Fab.
---
Acetate
Side A
Rapper's Reprise (Jam-Jam) [7:40]
Promotional Only Release
Side A
Rapper's Reprise (Jam-Jam) [7:40]
Side B
Sugar Hill Groove [9:52]
---
---