Big Bad Wolf Records (US) [C 1950] 1980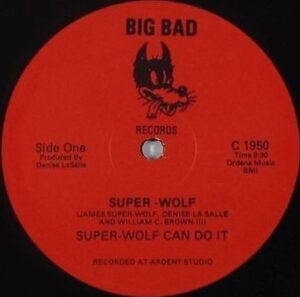 This was the debut release by James Wolf aka Super-Wolf and was produced by blues and soul artist Denise LaSalle.
The track was originally released on Big Bad Wolf Records but was licensed and reissued later the same year by Sugar Hill Records with the inclusion of a short version. The track times are actually slightly shorter to those printed on the label.
---
Big Bad Wolf Records [C 1950]
Side A
Super-Wolf Can Do It [9:30]
Side B
Anybody Can Do It [9:20]
Sugar Hill Records [SH-546]
Side A
Super-Wolf Can Do It (Short Version) [6:30]
Anybody Can Do It [6:30]
Side B
Super-Wolf Can Do It (Long Version) [9:30]
---
---