Brass Records (US) [BRDS 2504] 1979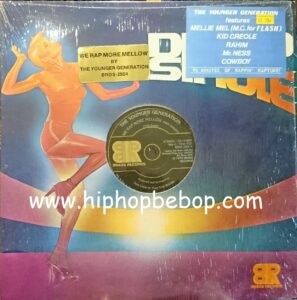 The Younger Generation consisted of Grandmaster Flash, Melle Mel, The Kidd Creole, Rahiem, Mr. Ness aka Scorpio & Keef Cowboy otherwise collectively known as Grandmaster Flash & The Furious Five.
Based around the disco jam "Every Way But Loose" by Oneness Of Juju, the track was produced by Terry Lewis who released it without the group's consent using a false artist name. Many of the lyrics can be heard on their classic "Superappin" which was released on Bobby Robinson's Enjoy label the same year.
There are a few releases by the Younger Generation but only this one features Grandmaster Flash and the Furious Five. It seems that Terry Lewis continued to use the name, possibly as an alias, on other tracks. For example, the Marvelous Three & Younger Generation release, also on Brass, only featured the Marvelous Three. There was also a UK only release in 1984 that used elements of Dr. Jeckyll & Mr. Hyde's "Fast Life" plus a track by Prince Sneed in 1985.
The record was repressed in the early 2000's but is easily distinguishable from the original due to the smaller font. See images below.
---
Side A
We Rap More Mellow (Maxi Version) [9:35]
Side B
We Rap More Mellow (Micro Version) [3:34]
We Rap More Mellow (Mini Version) [6:08]
---
---