Evejim Records (US) [EJ 1979] 1985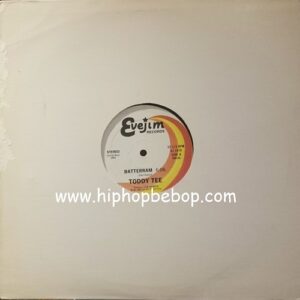 Debut release by pioneering West Coast hip hop artist Todd Howard aka Toddy Tee and credited as one of the first West Coast gangster rap releases. The track itself tells of how the LAPD used to raid crack houses by driving a batterram into them.
This release is produced by and features on the label of legendary R&B artist Leon Haywood. It was reissued later the same year with exactly the same track listing, after being picked up by Epic.
Currently Toddy Tee is writing a book slated for a 2016 release which tells the story of how West Coast street music began. I'll post links when it's released.
---
Evejim Records [EJ 1979]
Side A
Batterram [6:06]
Side B
Batterram (45 Version Vocal) [3:24]
Batterram (Instrumental) [6:30]
Epic [49-05294]
Side A
Batterram (12″ Vocal Version) [6:06]
Side B
Batterram (7″ Version) [3:24]
Batterram (12″ Instrumental Version) [6:30]
---
---