Saturn Records (US) [SAT-2010] 1985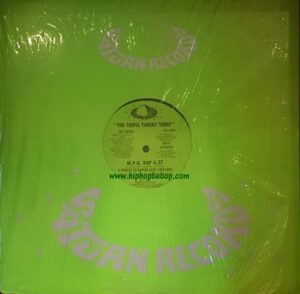 This is the second and final release from the Triple Threat Three and was a tribute to the late soul legend, Marvin Gaye, who was shot dead by his father the previous year. The track featured Daniel Sofer on keyboards, a guest appearance from Andre Manuel aka the Unknown DJ and additional production from Lonzo (Alonzo) Williams of the World Class Wreckin' Cru. Extra thanks on the label go to Dr. Dre, The Wreckin Cru & DJ Spoonie.
There are a few label variations for this release. The first pressing is on a green label and has Concept by DJ Darryl Dee printed below the artist name but the second pressing omits this. Both these releases were issued in green company sleeves. The third pressing is on a silver label with red text and is once again manufactured and distributed by Macola.
Although this was the final release as Triple Threat Three, Captain K, DJ Darryl Dee and DC Ray went on to release a single as the group Projekt III followed by the group Masters Of The Mix which didn't include DC Ray.
---
Side A
M.P.G. Rap [4:37]
Side B
M.P.G. Tribute [4:15]
M.P.G. (Instrumental) [4:18]
---
---