Saturn Records (US) [SAT-2007] 1984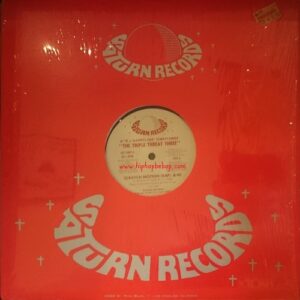 This is the first of only 2 releases from Captain K (Bruce Knight), Mike C (Mike Carraway) and DC Ray (Ray Haskins) collectively known as the Triple Threat Three from Sacramento and features scratching from DJ Darryl Dee (Darryl Dennis).
There are a couple of label variations of note. First pressings were independent and have Saturn Records and it's PO Box address at the bottom but second pressings are manufactured and distributed by Macola and also have their details printed underneath. Both versions were released in red company sleeves. There is also an acetate from Quad Teck Studios which has the same vocal track on both sides and is slightly different to the general release.
---
Acetate
Side A
Scratch Motion
Side B
Scratch Motion
General Release
Side A
Scratch Motion (Rap) [6:40]
Side B
Scratch Motion (Scratch) [5:45]
---
---