Prism (US) [PDS 460] 1983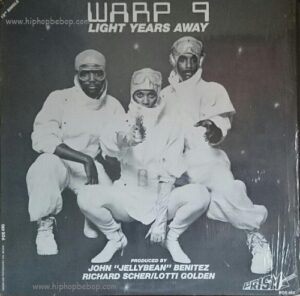 Following the success of "Nunk", Golden and Scher recruited Ada Dyer as a female vocalist for this second release. Milton 'Boe' Brown, Chuck Wansley and Ada were now the face of the electro funk group Warp 9 and in my opinion, this was their finest moment.
There are a couple of label variations for the promo release. One is the same as the general release containing vocal and dub versions but, similar to the previous release, there is also a promo only pressing with a slightly different catalogue number which has long and short vocal versions but no instrumental.
---
Promo Only Pressing [PDS 40,060]
Side A
Light Years Away (Long Version) [5:09]
Side B
Light Years Away (Short Version) [4:35]
General Release [PDS 460]
Side A
Light Years Away [7:45]
Side B
Light Years Away (Dub Version) [6:47]
---
---