Prism (US) [PDS 450] 1982
Warp 9 began as the production duo of Lotti Golden and Richard Scher and evolved into a group after Prism became interested in their experimental electro funk instrumental, "Nunk", a blend of New wave and fUNK. The duo recruited Milton 'Boe' Brown, former drummer for disco group The Strikers on Prelude Records and Chuck Wansley to perform vocals on the track. The track was also co-produced and mixed by NYC producer and DJ, John 'Jellybean' Benitez.
There are a few label variations for this release which are pictured below. To begin with it was released simply as "Nunk" and on further pressings it was renamed slightly to "Nunk (New Wave Funk)". There are also two different promo releases. One is the same as the general release but the other has a slightly different catalogue number and shorter versions.
---
Promo Only Release [PDS 40050]
Side A
Nunk [4:15]
Side B
Nunk [5:00]
General Release
Side A
Nunk [7:19]
Side B
Nunk (Instrumental) [8:20]
---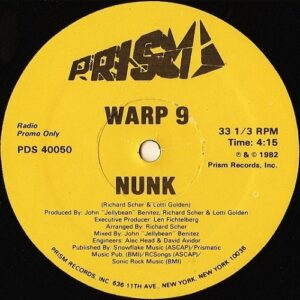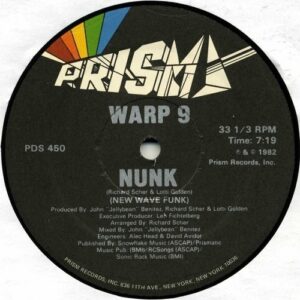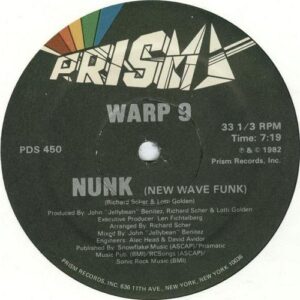 ---