Sugar Hill Records (US) [SH-460] 1983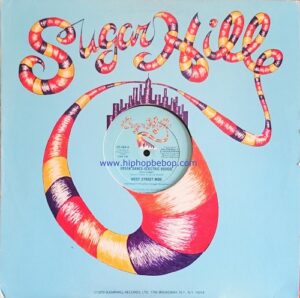 West Street Mob began as a boogie, funk & soul group featuring Bill McGee, Sabrina Gillison & Warren Moore plus producers (and Sylvia Robinson's sons), Joey Robinson Jr. & Leland Robinson. Their first album in 1981 included a nice cover version of the classic breakbeat "Get Up And Dance" by Freedom and they also released the non-album cover version of Sly & The Family Stone's "Sing A Simple Song".
I won't list all their releases, just the hip hop ones, so fast forward to 1983 and they had a change of style when they released this hip hop/electro vocoder anthem sampling the classic breakbeat "Apache" by the Incredible Bongo Band. I'm not 100% certain who did the scratching for this record but an educated guess would suggest Grandmaster Flash although the following release mentions DJ Scott. I'll update when I know for certain. Assistant producer was Reggie Griffin of "Mirda Rock" fame.
There are a few label variations including one with a different catalogue number, SH-32005 not pictured, due to their short-lived deal with Universal but identical track listing. There is also a single sided acetate.
---
Single Sided Acetate
Side A
Break Dancin'-Electric Boogie [5:05]
General Release [SH-460 & SH-32005]
Side A
Break Dance-Electric Boogie [5:02]
Side B
Let Your Mind Be Free [6:12]
---
---