Jive (UK) [JIVE T 66] 1984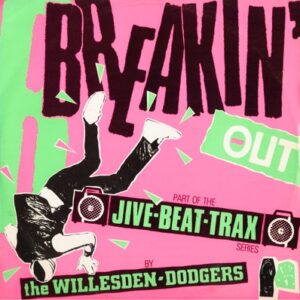 Pete Q. Harris, Nigel Green and Richard Jon Smith made up the production group Willesden Dodgers. Richard was already a successful R&B singer in South Africa with many albums to his name although he was probably best known for his 1983 self titled album with Jive that spawned some fairly successful singles. Nigel and award winning composer/song writer Peter still work in the music industry today with Nigel having done live mixing for the likes of Shania Twain and Bruce Springsteen. According to Pete there were a lot of pioneering techniques used at the time in the making of the singles, none of which I understand so I won't attempt to explain them here.
"Breakin Out'" was the debut single by the group and featured as one of the main anthems for the classic live jam "Hip Hop at the Hippodrome" aka "Electro Rock" hosted by Capital Radio's now legendary Mike Allen in 1985.
A reworked version of this entitled "Party (No Sheep Is Safe Tonight)" with some added vocals by Richard Jon Smith appeared on "The Jewel Of The Nile" soundtrack in 1985. Apparently the soundtrack was already behind schedule stateside so this reworked version was made in a hurry.
Just as a small note, Pete also wrote the "Love Theme" for the soundtrack but it was never played to the director so instead they used the track by Jack Nitzsche. It remains on the shelf for now.
Many thanks to Pete for getting in touch with some additional information.
---
Side A
Breakin' Out (Mix 1) [6:56]
Side B
Breakin' Out (Mix 2) [10:27]
---