Jive (UK/US) [JIVE T 67/JED 1-9228] 1984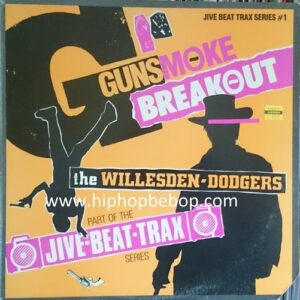 "Gunsmoke Breakout" was the groups second single and, in my opinion, an instrumental masterpiece and also featured as one of the main anthems for the classic live jam "Hip Hop at the Hippodrome" aka "Electro Rock". To be honest, I always thought this was their first single but catalogue numbers seem to suggest otherwise.
I've included details of both the US and UK versions of this releases as there are a couple of notable variations between them.
The UK cover has images of Clint Eastwood and a breakdancer while the US cover opts for the same images but in silhouette.
The US release contains an additional track, the single edit version.
There are also a couple of rare single sided UK acetates which are pictured below, each one represents each side of the UK 12″, although side A is incorrectly titled "Gunsmoke Shootout". Images courtesy of Fab.
---
UK Release [JIVE T 67]
Side A
Gunsmoke Breakout (Mix 1) [11:30]
Side B
Gunsmoke Breakout (Mix 2) [5:39]
UK Acetate – Record 1
Side A
Gunsmoke Shootout [11:30]
UK Acetate – Record 2
Side A
Gunsmoke Breakout (Dub) [5:39]
US Release [JED 1-9228]
Side A
Gunsmoke Breakout (Mix 1) [11:30]
Side B
Gunsmoke Breakout (Mix 2) [5:39]
Gunsmoke Breakout (Single Edit) [3:25]