Jive (UK/US) [JIVE T 121/1010-1-JD] 1986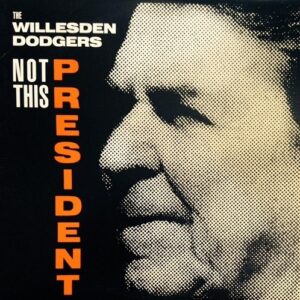 This was the groups third release and lead single from their album "1st Base" but sadly their last and featured vocal sample fodder from US Presidents and media. It wasn't quite as hard-hitting as "Gunsmoke Breakout" or "Breakin' Out" and had a more commercial sound but it was 2 years later so a change in sound was probably inevitable.
There are a 2 different UK releases of this. Both have the same catalogue number, although one has a picture sleeve and one has a custom Jive sleeve and both have different B side tracks. There's also a US release which seems to include the mixes from both UK versions on one 12″.
---
UK Release – Jive Sleeve [JIVE T 121]
Side A
Not This President
Side B
Breakin' Out
Reckless
UK Release – Picture Sleeve [JIVE T 121]
Side A
Not This President (All For Uncle Sam Remix)
Side B
Not This President
Zero-G
US Release [1010-1-JD]
Side A
Not This President (All For Uncle Sam Remix) [5:58]
Not This President (All For Uncle Sam) [4:04]
Side B
Not This President (LP Version) [5:10]
Zero-G [5:49]
---
---