Beauty And The Beat Records (US) [BAB 100] 1985
New Jersey rappers Ali-G aka Original G and KMC debuted as Word Of Mouth in 1985 and released the first single on Duke Bootee's Beauty And The Beat Records with and ode to their DJ, King Kut aka DJ Cheese. The track was produced by Duke Bootee and DJ Cheese, although Cheese was uncredited, and also has a bonus beats version produced by the legendary Latin Rascals and a dub by Dave Ogrin.
There are two different versions of the track on the Beauty And The Beat label. The original version has DJ Cheese scratching "…cutting and scratching…" vocal sample from Run DMC but due to copyright issues it was also released without the vocal sample. They all have the catalogue number, BAB 100, on the label but the ones which contain the sample have BAD-100 etched in the runout while the version without the sample has BAB-100 RE. The label variations are pictured below and the track list is the same on all versions.
One version, presumed to be the first pressing, only has the title "King Kut" on the label and has no mention of Word Of Mouth or DJ Cheese. This version does contain the infamous Run DMC sample.
Another pressing has the title and directly below it, the artist, and also contains the sample.
The other pressings have the artist and then the title below but also includes the extra word "by" between them. Although the labels are identical there are two different versions. One release has BAD-100 etched in the runout and contains the Run DMC samples and the other has BAB-100 RE etched in it and doesn't have the samples.
Finally the track was reissued in 1985 on Profile Records complete with the samples on one side and a remix with no samples on the flip side.
There is also an unofficial repress from 2007 which includes the sample but has the runout groove BAB-1007 and also has a small press ring.
DJ Cheese went on to win the DMC World DJ Championship in 1986 where he is credited for introducing cutting and scratching to the competition.
---
Beauty And The Beat Release
Side A
King Kut (Vocal) [7:10]
Side B
King Kut (Bonus Beats) [3:06]
King Kut (Dub) [6:11]
Profile Release
Side A
King Kut [7:11]
Side B
King Kut (New Remix) [7:20]
King Kut (Bonus Beats) [1:53]
---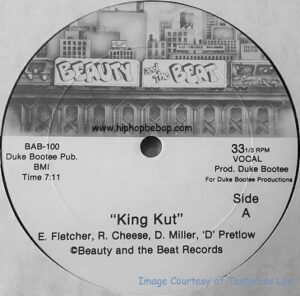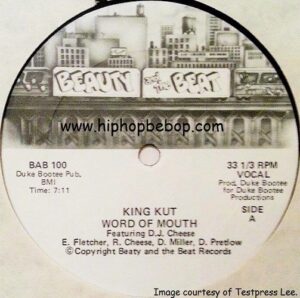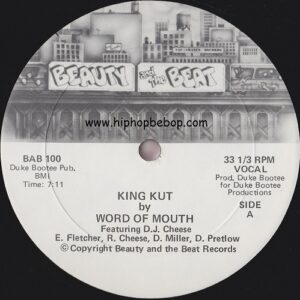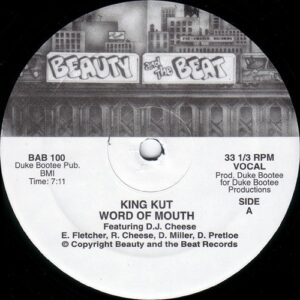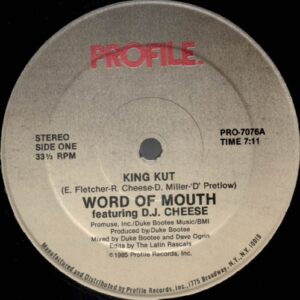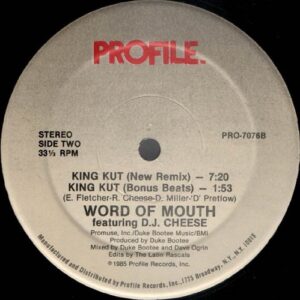 ---