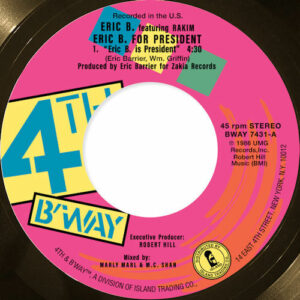 Eric B. and Rakim created 4 LPs together between 1987-1992 and in that 5 year period they were able to carve out their reputation as one of the greatest hip-hop duos of all time. "Eric B. Is President" was the world being introduced to Rakim in his rawest form. The rap god was unknowingly laying the foundation for a career that continues on today and is consistently recognised for changing and pushing the boundaries of the hip-hop genre.
King Underground bring you their very first official reissue, and what better track to reissue than the mighty 'Eric B Is President' mixed by Marley Marl & MC Shan.
You can pick up an original 7″ for anything over £100 or grab this reissue cheap-as-chips.
This is the black vinyl pressing only, other colourways are available direct from King Underground.
Read More